Barbara Walker
of
Barbara Walker Photography
has been making some gorgeous products (like this accordion book!) . . .
and
she's found a super clever way to market her business! Check out the accordion book then scroll down to see what she's doing with her business cards. :)
Barbara
said,
I've started to complete and have products already printed for my clients to view during their proofing session (and of course using your templates). Having the products ready has helped my sales jump drastically. I have found that it has helped to show them

their

images on the products rather than show them someone else's and have them imagine what it'll look like. 9 out of 10 times, they'll buy them right on the spot! Thank you The Album Cafe!!!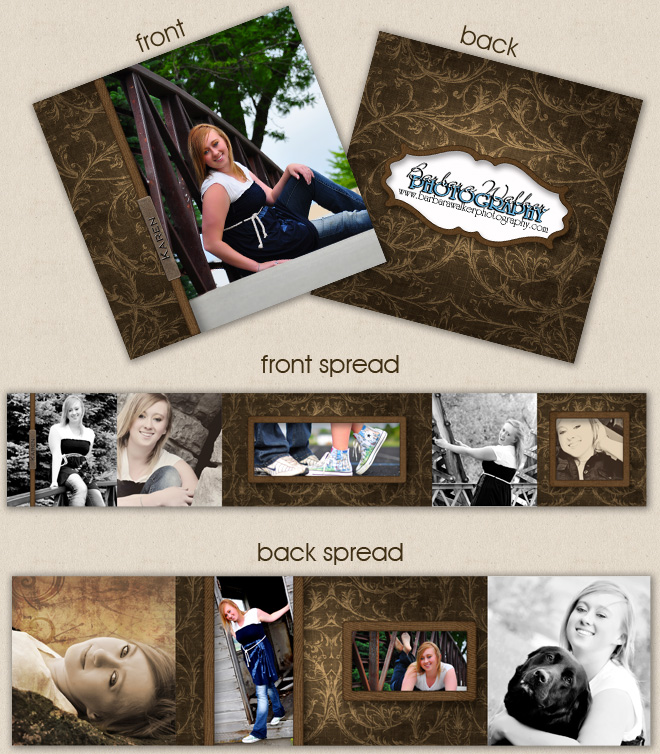 I just love what
Barbara
is doing with the business cards . . . thanks for sharing!!
Thank you for the free Aquamarine business card template. I hand out my cards according to what my potential client might be interested in. I hand out my newborn cards to women that are expecting and families with a newborn. I handout my senior cards to the teenagers I see or the parents with the teenagers. Etc., etc., etc. It may be a little more expensive to have them separated into categories but I've found that I get a better response from clients when they are seeing samples of the type of photography that they are in the market for.